Everyone who is considering entrepreneurship wants an answer to this question.
And, before we move on to that answer, we want to say this to you: don't start investing in your business until you are very clear on what your mission is. In other words, what you want to change with your business, who your audience is, and how your business will differentiate itself in the marketplace to help that same audience.
This implies that you will have to study the market, the audience, and the competition before you start spending money on websites, logos, materials, and prototypes. None of this makes sense if you don't know how to answer these questions:
What change/improvement are you going to implement with your business?
What kind of people does your business help?
How is your business different from others?
Invest in yourself first
So, the first investment you have to make is in knowledge and study. If you have no idea how to answer these questions, study the subject first before you commit to entrepreneurship. Read books, take courses, mentorships, search for information online, and talk to people to get as much information and feedback as possible. These are investments in yourself and you will always reap the rewards of it, be it in this business you just imagined or in another one.
Now that we have clarified this point, let's start answering your question: how much money do you need to start a business?
Ok, but how much money is needed to get started?
We know you wanted a straight answer, but the truth is that this depends a lot on the business.
A digital business can start with almost no financial investment, requiring your labor and time as a currency.
Or it may need an investment of thousands to millions if it is a brick-and-mortar business or involves research or product creation.
You will want to be able to sleep at night
One investment you should always keep in mind is your own survival. Until your business can pay you a salary, plenty of time will pass, and there is no exact way to know exactly how much. So, while most people advise you to have money for six-month expenses, we go a little further. You'll need a steady financial source to keep you afloat for 1 year, or a job that will cover your costs until the business starts paying you.
Otherwise, you run the risk of being in a precarious financial situation, which can cripple your business prematurely and hurt you in the future.
The initial investment
A brick-and-mortar business naturally has a greater initial investment than an online business. However, even an online enterprise may require a larger initial investment if you need to work with stock, for example.
Therefore, as an initial investment, there are costs related to:
Opening a company
Logo and brand identity
Website
Marketing and dissemination
Billing program
And there may be costs related to:
Construction works in the physical space
Furniture and decoration
Specialized equipment
App Creation
Prototyping
Consumable goods
Packaging and bags
However, none of these costs should exist before you test a minimal version of your business.
The MVP (Minimum Viable Product)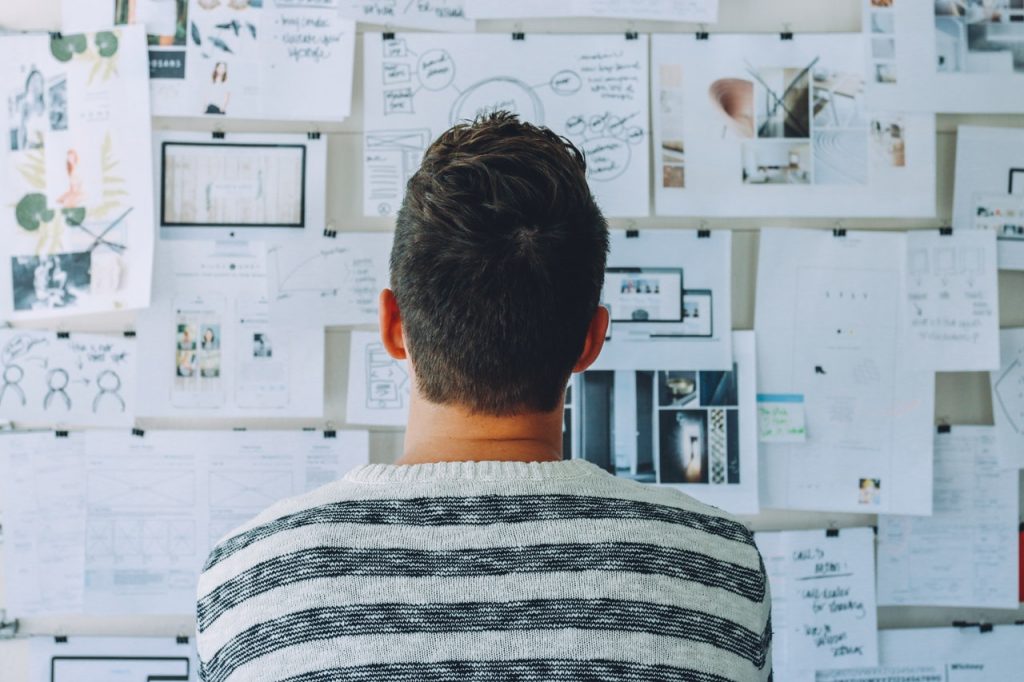 Your business should always start with a test version, with as little time and monetary investment as possible. Why? Because most companies fail by creating products that the public doesn't need. And the only way to know if the public will buy what you have to sell is to put a version of it on sale.
With this experience, you will get feedback from real customers, you will understand what their real needs are, and how you can improve or change your product/service to make it successful.
As long as your business is only in your head, there is no way to know if it works. All business plans fail and must be adapted when they collide with reality. So, before you commit financially to your idea, test it!
Create a community of people interested in what you have to offer before you even have anything concrete to sell. And create a simple version of the business just to prove the interest. Sometimes an app, which will cost thousands to develop, can be tested with a simple form or Facebook group. Then you can move on to building that app when you're sure that it's worth investing in and you already know in more detail what that app has to include.
The same applies to a brick-and-mortar business. Before you rent a space and spend money, you need people who are looking forward to the moment you will open your space. You can do pre-sales, pre-registration, online sales, etc.
To create and sell your MVP, you may have costs related to:
Creating a sales page
Online advertising (Google Ads and social media)
Creating a working prototype (if you are creating a product)
And…
Even though it's entirely possible to start your business on your own, evolving until you earn money to hire other people, it's VERY DIFFICULT to learn from scratch all the skill areas of an entrepreneur and perform well in all.
There are several professions:
Management
Marketing
Accounting and finance
Communication
Sales
Communication design…
You may need to hire other people's services for your business to reach its potential. Or have partners with the same vision and commitment as you, and complementary skills (never the same as yours!) to help you move the project forward. If you're interested in finding partners for your project, we recommend Teamfounder.
Bottom line
Before you think about how much money you will need to start a business, think about the difference you want to make with it and the audience you want to help, and TEST it! Do that as soon as possible, only then will you realize what business it is worth creating. At that point, you can think about how much money you need to get started.
At this stage, you already have more reliable and real data, you already have more security to think about investing money in your business, and it is already easier to get investment or incentives in case you can't/wouldn't go ahead on your own, from banks, investors, entrepreneurship support programs, or friends and family.
So, if you're thinking about entrepreneurship to make money in the short term, get a job.
If you want to undertake entrepreneurship to make a difference and because you want to build something of your own while helping other people, knowing that the money will eventually come, as long as you do good work consistently, let's do it!