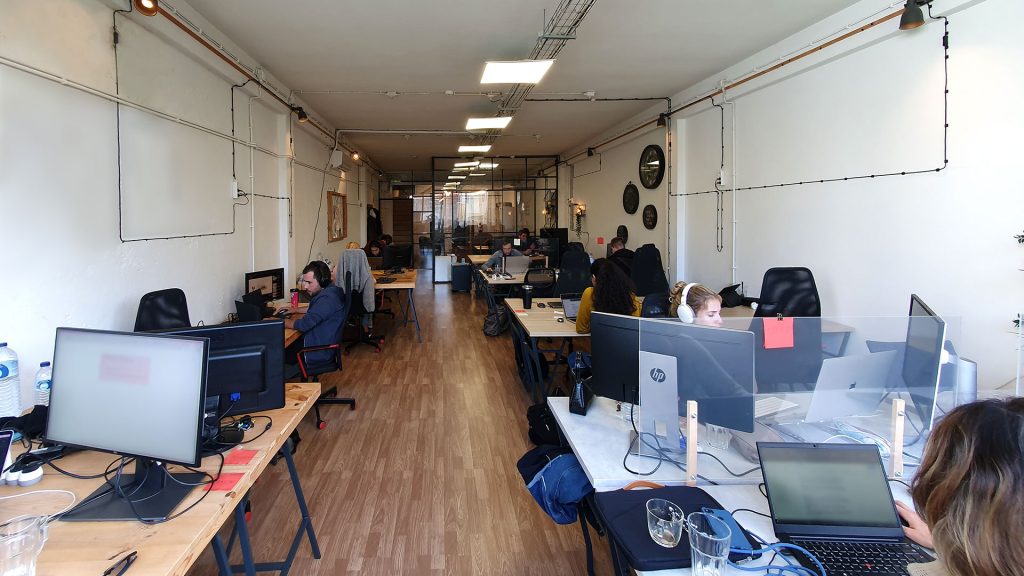 Turning points
We could start by telling you about the natural light of our space, the comfort of the chairs or the speed of the Internet, but we believe that is not why you are looking for a coworking space. You probably have all that at home too, and maybe the chairs are even more comfortable.
Why do we believe you're looking for a cowork then? For the same reason that led us to create it. Turning points.
How so? Let us introduce ourselves: I, who write to you, I'm Inês, one of the founders of Synergy; the other is Helder, who doesn't write to you, because he doesn't like to write and is incredibly better and more indispensable at Synergy for other things, like build our community and our space. You'll meet him when you book a visit.
Well, I, Inês, found myself in August 2015, going into crisis because in 5 months I would be 30 years old. And what was wrong with turning 30? Well, none, other than that it was one of those turning points where, in my mind, I should have reached a certain level of personal and professional success and things weren't going as planned.
Personally everything was going well, but professionally, I had spent the last 2 years shut up at home by myself, trying to kick-start my career as a graphic designer, when I didn't even like it. And my career was exactly like 2 years ago, on the ground.
And what does that matter to you? Anything. And yet, that's why you're looking for a coworking space, even if you don't know it yet.
I continue.
One afternoon that summer, I had a turning point. That moment when you decide that your life can't stay the same and when you feel all the energy in the world to change, even if you have to build a new life, stone by stone. And in our case it was almost like that.
In the space of 1 year, I had organized and participated as an author in 2 collective art and design exhibitions, achieved a full-time teaching position, opened a local accommodation, obtained the international certification in coaching and started to assist the first clients, AND in December 2016, we were buying the space where we would build Synergy.
And it is exactly that turning point that you are experiencing right now, the same one that made me leave the house and do networking, not that networking where you go to an event and give your business card after a superficial 5-minute conversation and collect 10 more cards in your top drawer in the office. Networking from the one who changes your life in a year or less.
Networking for real, with people who become partners, mentors, friends or a little bit of everything at the same time. Daily networking, in a work environment that makes you want to work and keeps you away from the temptation of the pile of laundry, the charm of kitten videos and the insistence of family members who always need something when you should be productive.
And it was for you to have such an environment, instead of a desk and chair outside your house, that we created Synergy. Where the most important thing is the community, our daily family lunches, outings, game nights and sharing small victories in the WhatsApp group on Saturday mornings.
And whether you're coming to stay for a year or more or just passing through for a day or a week, whether you're coming from the apartment across the street or from the other side of the world, we guarantee you'll be welcomed as if you were coming home. Welcome to family! Book your visit or trial day.
F.A.Q.
What stay options do you have?
You can stay with us as long as you want, with the level of flexibility you prefer, after all, that's what families are for. We accept you as you are. We have monthly options in full-time 24/7 or part-time 2x a week, weekly and daily contracts.
Do I need to book or can I just show up?
To ensure that we have a desk for you and someone available to welcome you, it's always best to book. If you're passing by the door and you haven't made a reservation, ring the bell and we'll try to accommodate you as best as possible within the day's availability. Inês and/or Helder are usually at the space from Monday to Friday from 10:30 am to 4:00 pm, but sometimes we have other commitments and we are not available, so booking in advance is always guaranteed.
How do I book the coworking?
Send us a contact request through the website or email hello@synergy-porto.com with your information and the dates you want to book. See our cancellation policy to find out more.
Tenho fidelização?
We don't force anyone to stay with us. However, if you decide to join for 1 year or 6 months, you get a 10% and 5% discount, respectively.
Can I try 1 day before committing?
Of course! You pay the daily pass of 10€ + VAT (12,30€) and if then you decide to join us on a weekly or monthly contract, we deduce that on the price.
And we advise you to have lunch with us so you can meet as many people as possible and feel Synergy. However, if you've read this far, we're sure you won't need to try it, you already know you belong here.
Do you have phone booths?
We don't find it comfortable to spend hours locked inside a cage, so at Synergy you can make your calls on our entrance floor, away from the openspace, in the lounge areas, on the terrace and in the garden. You can also reserve the meeting room for more private calls. Our coworkers appreciate it.
How do lunches work?
Lunches are without a doubt the best part of the day, where we unwind from work and chat about everything from each other's work to deeper conversations about AI or curry ketchup.
The menu is shared at Monday morning's and there is always a meat/fish option and a vegetarian option. Lunch is made by Sandra, (our "mother", who cooks, cleans and "scolds us" if we forget glasses scattered around), and is served at 1 pm. If you're late, she'll save your plate for later.
You can also join us with your own food, if you prefer, we don't take it personally, although Sandra's food is quite good.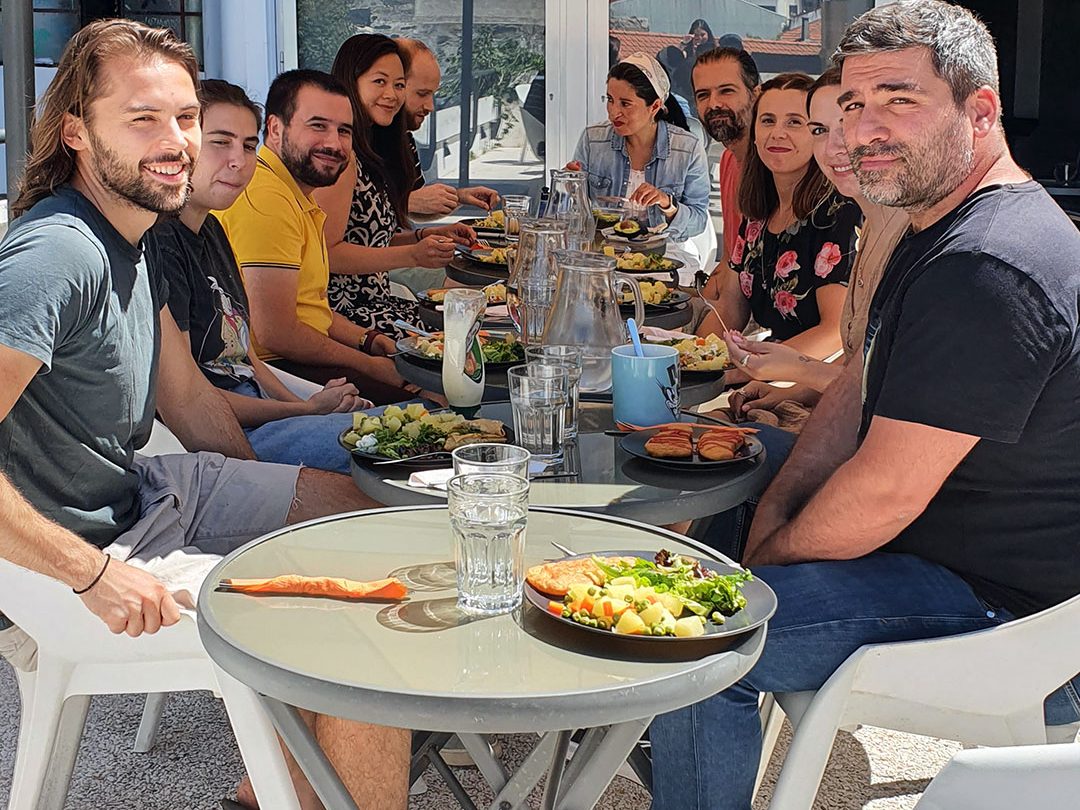 What kind of people work at the cowork?
In addition to IT staff, we have designers, copywriters, marketeers, photographers and videographers, among others. Oh, and entrepreneurs too, because Helder and I have an entrepreneurship school, Egg Academy.
I've never been to a cowork, is it worth it?
Well, if you're still not convinced by now, we're not going to convince you. But you can read what our coworkers shared on Google about us, we copied some testimonies from there that you can read below.
I'm shy and I like to stay in my corner, is Synergy for me?
As you may have noticed, we don't force anyone to do anything. We like to say "good morning" and "see you tomorrow" when we walk in and out and encourage you to do the same. If after that, you don't want to say another word all day, it's going to be a shame, because we're sure you have some very interesting things to share, but it's up to you.
And after all, is the internet fast?
Yes, we know you really want to know. Belonging to the family is very well and all, but if you don't have Internet, it doesn't work. And that's why our Internet is the best we can have, with 1Gbps speed and an internal Wifi6 network.
See what our coworkers say about us
"I came to Synergy looking for a place to work remotely after the pandemic. I've been here for 9 months and I don't intend to leave. It's not only a good place to work in, but also an excellent place to network and make part of a community that strives together. The communal lunches are an amazing opportunity for you to get to know the other coworkers as well as catching some sun in the terrace while the events organized by Inês and Hélder can help you find hidden gems in and around Porto. Would definitely recommend to everyone coming to Porto for the first time or residents who want to meet new people!"
Diogo Barroso – Portugal – Game Developer (julho 2022)
"I love working at Synergy! Inês & Helder are such kind people & they really make you feel welcome. They attract a community with the same vibes, so there's a really great coworking atmosphere. The office is a great space with plenty of areas for calls, patio & garden, & it's always clean! They also have video equipment/room & other things for rent! One of my favorite parts is the lunch offered ever day for a small price! It makes life so much easier to not have to think about or bring lunch & it's such a nice way to connect with other coworkers. Highly recommend for people living here in Porto & those just visiting."
Frannie Coggeshall – USA – Facebook Ads (julho 2022)
"Life-changing work experience! If you're a remote worker, freelancer or business owner, you should consider Synergy as your workplace. Everyone knows that being in a place where everyone is focused and making things happen gives that extra push for you to pursue and achieve your own goals 💰🏖️ Before joining Synergy, I struggled to be focused and efficiently finish my work tasks. But recently, I've found that this is the only place I can be highly productive while enjoyably working on my business, and this might be your situation too. Plus, you'll get to meet incredible people and professionals! Synergy often organizes activities for everyone to have fun and get to know each other, and also entrepreneurship events. This place is impressive: it has a fast Internet connection, a meeting room, a fully equipped kitchen, 24/7 access, awesome staff, coffee, water, tea, etc. If you read this far, you should really try Synergy. Cheers ✌️"
Tiago Silva – Portugal – Web Engineer (novembro 2021)
To read other testemonials, click here.
You can work with us on 2 monthly coworking options, both with:
almoço (opcional e com opção vegetariana) por 5,00€
coffee and water included
access to lounge area, fully equipped kitchen, terrace and lawned garden
A4 and A3 color wifi printer
10% discount on the rental of spaces for events and workshops
you may start your monthly contract at any day of the month
6-month contracts have 5% discount and 12 month contracts have 10% discount
coworking full-time | 130€ + VAT (159,90€):
24-hour access
unlimited hours in meeting room (subject to availability)
dedicated desk
coworking part-time | 75€ + VAT (92,25€):
access 2 days a week from 09:00 to 19:00 (upon reservation)
8h free monthly in meeting room
flexible desk
We also have the option of weekly and daily coworking:
week | 50€ + VAT (61,50€):
24-hour access
coffee and water included
A4 and A3 color wifi printer available
day | 10€ + VAT (12,30€):
option available only from Monday to Friday at 10:00 am to 7:00 pm
coffee and water included
A4 and A3 color wifi printer available
If you want to join us, book your visit
Tell us in the message the day you want to try the cowork.