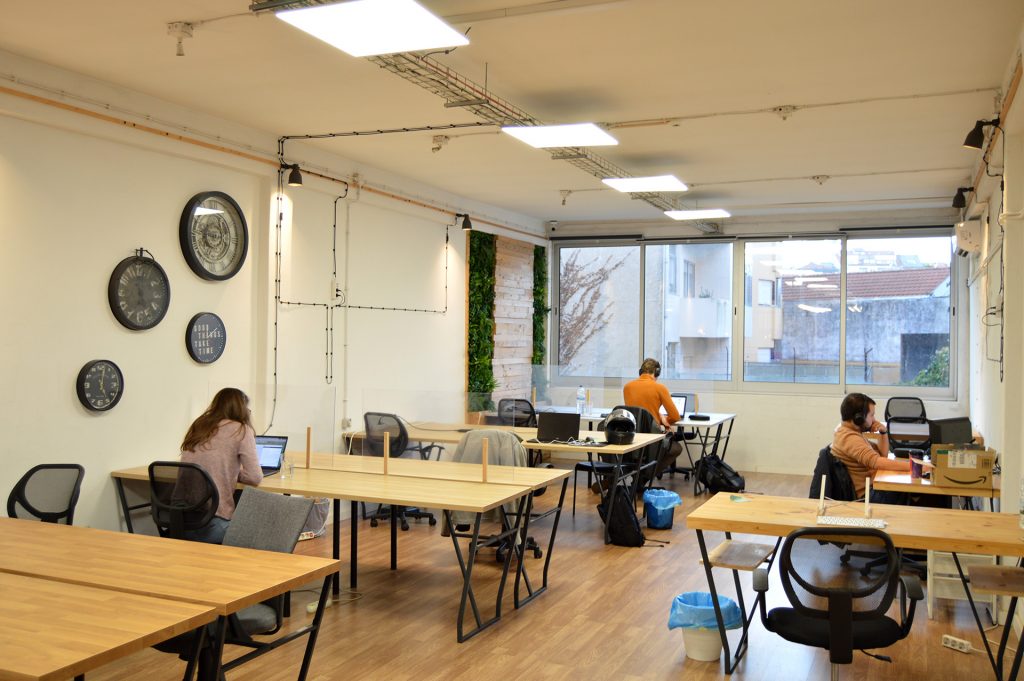 We have a bright and comfortable coworking space, with capacitie for up to 26 people.
We also have a lounge area where you can work on puffs and sofas.
The Internet is very fast (1Gbps)
You can work with us on 2 monthly coworking options, both with:
almoço (opcional) por 4,50€
coffee and water included
access to lounge area, fully equipped kitchen, terrace and lawned garden
A4 and A3 color wifi printer
10% discount on the rental of spaces for events and workshops
if you start in the middle of the month, you pay only half the monthly fee
6-month contracts have 5% discount and 12 month contracts have 10% discount
full-time full-time | 115€ + IVA (141.45€):
24-hour access
unlimited hours in meeting room the (subject to availability)
dedicated desk
full-time coworking | 65€ + VAT (79.95€):
access 2 days a week (Monday to Saturday) from 09:00 to 19:00
access 3 days a week (Monday to Saturday) from 09:00 to 19:00 8h free monthly in meeting room the
flexible desk
And best of all, you can try 1 day for free!
Book now! Tell us in the message the day you want to try cowork.

Vê o que os nossos coworkers dizem sobre nós
"Life-changing work experience! If you're a remote worker, freelancer or business owner, you should consider Synergy as your workplace. Everyone knows that being in a place where everyone is focused and making things happen gives that extra push for you to pursue and achieve your own goals 💰🏖️ Before joining Synergy, I struggled to be focused and efficiently finish my work tasks. But recently, I've found that this is the only place I can be highly productive while enjoyably working on my business, and this might be your situation too. Plus, you'll get to meet incredible people and professionals! Synergy often organizes activities for everyone to have fun and get to know each other, and also entrepreneurship events. This place is impressive: it has a fast Internet connection, a meeting room, a fully equipped kitchen, 24/7 access, awesome staff, coffee, water, tea, etc. If you read this far, you should really try Synergy. Cheers ✌️"
Tiago Silva – Web Engineer
To read other testemonials, click here..
We also have the option of weekly and daily coworking:
week | 40€ + VAT (49,20€)
24-hour access
coffee and water included
A4 and A3 color wifi printer available
day | 10€ + VAT (12,30€):
option available only from Monday to Friday at 10:00 am to 7:00 pm
coffee and water included
A4 and A3 color wifi printer available
We have discount prices for bigger groups